We Are An Authorized Online Air Purifier Store Dealer For Our Brands
We are EPA (Environmental Protection Agency) Certified as Indoor Air Quality Expert. We understand the importance of choosing the "right" air purification solution for you. We are committed to providing you the most current, accurate, unbiased and easy to digest information, and helping you make the most informed decision on your air purifier needs. With Free Shipping on all orders and No Sales Tax on most orders, we strive to give you the best online shopping experience with the best deals available. Contact us at 1-866-626-5969 for a personalized consultation.
Shop All Air Purifiers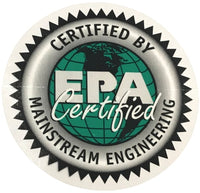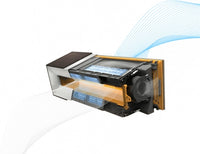 Airocide PCO Technology NASA Designed, FDA Approved
Founded in 2007, Airocide products have a fan that draws the air from your home into the unit. The air is slowly pushed across hollow glass tubes coated with what is called a catalyst that facilitates the chemical process known as Photocatalytic Oxidation. It is safe, efficient, and has been proven to produce no harmful by-products. This is the exact same process that NASA used as a VOC air purifier on the International Space Station. Our customers love its versatile filterless design, portability and easy maintenance.
Shop Airocide Air Purifiers
Airpura's Powerful Performance
Founded in 2004 in Quebec, Canada, all units are manufactured at the facilities in Laval. Airpura strives to have the smallest environmental footprint possible, while creating an air purifier that delivers unparalleled performance. A recent study concluded that the circumferential air outflow design of the Airpura air purifiers make them less likely than air purifiers with vertical exhausts to disperse droplets from coughing or sneezing throughout the air. In studies conducted by McGill University, it was confirmed that the material used in Airpura's HEPA filters showed close to 100 % aerosol particle removal efficiency for nanoparticles. These particles are as small as 0.01 micron (10 nm)! With infinite fan speed(s) to choose from, these units can be used in almost any size room up to 2000 sq. ft.
Shop Airpura Air Purifiers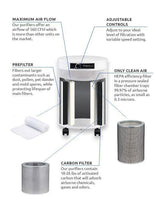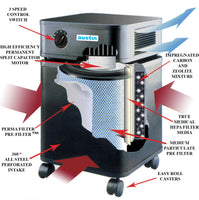 Austin Air Over 30 Years of Being A Top Seller In USA
Founded in 1990, Austin Air machines are universally regarded as "reliable", "economical" and "well-built". Austin Air's Buffalo, NY facility is one of the largest air purifier factories in North America. With different fan speed(s), they can be used in any size room up to almost 1000 sq. ft. Our customers love the fact it is made in USA, highly rated consistently and low maintenance. Many end up buying multiple as they love their Austin Air machines. Under normal use, the combination HEPA/Carbon filter is replaced every 5 years.
Shop Austin Air Air Purifiers
AllerAir Offers Maximized Customization
Founded in 1996, AllerAir is based in Canada. Their products feature the deepest carbon beds on the market, with up to 40 different proprietary carbon blends. The lifespan of their carbon is far greater than many competitors, and has outstanding absorption capacity. Our customers love the customized configurations for their specific needs, especially for those who have severe chemical sensitivity. With different fan speed(s), these units can be used in any size room up to 1500 sq. ft.
Shop AllerAir Air Purifiers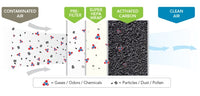 Airdog's TPA Patented Technology Delivers Washable Filters
Silicon Valley Air Expert Inc. is a leading air purifier company founded by a group of technology experts and entrepreneurs from Silicon Valley. They believe in "Ditch the HEPA" as their TPA Ionic Wind Technology collects "charged particles/airborne pollutants" on a collecting plate and offers the ability to wash these accessories to minimize filter replacement cost.
Shop Airdog Air Purifiers
EnviroKlenz's Patented Mineral Air Cartridge
Made in the USA, EnviroKlenz products place an emphasis on safety, simplicity, and effectiveness. Unlike many air purifiers that use carbon filters along with HEPA, EnviroKlenz Mobile Air Systems employ the use various combinations of metal oxide powders. These earth mineral powders include a proprietary NanoActive® Magnesium Oxide (MgO), Zinc Oxide(ZnO), and Titanium Dioxide (TiO2) material blend. Similar to Carbon Filters, the EnviroKlenz Air Cartridge is adsorptive. Unlike carbon, however, theEnviroKlenz Air Cartridge allows for a variety of chemical pathway interactions that breakdown toxic and noxious compounds. This neutralization effect prevents outgassing, which can occur when carbon filters become saturated. Hence, the EnviroKlenz air purifiers do not release any chemicals back into the environment. To complement their safety and effectiveness, the units are very easy to maintain. No tools are required.
Shop EnviroKlenz Air purifiers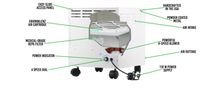 LightAir Ionization without Ozone
Founded in 2005, LightAir is a Swedish Clean Tech company that develops and sells air purifiers from patented and groundbreaking technologies for air purification in the indoor environment. The IonFlow air purifier is based on ionization technology and backed by scientific evidence that demonstrates effectiveness in preventing the spread of airborne viruses. The technology was the subject of a 7-year long study at the world-renown Karolinska Institute and published in Nature Scientific reports. Their appeal is driven by a sleek, modern design that boasts proven results without producing ozone.
Shop LightAir Air Purifiers
Testimonials
Gerry was exceptionally knowledgeable, patient, incredibly understanding of my needs and concerns, directing my choice by providing me thorough product information.  Very professional and and a pleasure to speak with!

Feb. 4, 2021, Kesha
You all get 5 stars for availability, 5 stars for communication, 5 stars for follow through and 5 stars for promptness. And 5 stars to the person (man) I spoke with on the phone, who sounded very nice. Overall a 6 Star rating. And again, thank you.      

Jan. 20, 2021, Donna